Information Architecture
This is the critical part of the design phase in which we start to decide what the site structure will look like. Specifically what we're looking at is how everything comes together in a manner that makes the most sense, both from a top-down, and bottom-up perspective.
A top-down perspective is from that of the client (typically the business owner for which the site is being created for). They know what information and/or products they offer and often have a pretty strong idea for how they would like that to be shared with the world. This is the sitemap we created for Good Human Travel based on our previous meetings (for a look back on that original report click here).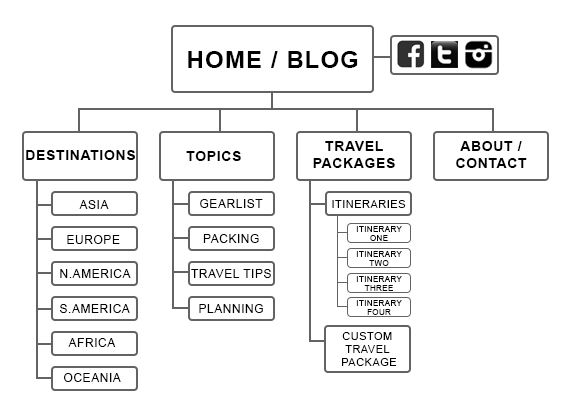 It's critical, however, to remember that it will ultimately be the user who needs to navigate this site successfully. This means that in many ways it's actually more important to think about things from bottom-up approach (from the user's perspective).
After a brief description of the site, here are some questions our study group came up with regarding Good Human Travel:
Where is the company based out of?
What are the various destinations?
Are the tours planned or are they your own?
Are they guided?
Do you have any affiliates?
Group Travel? How many?
Are there Trip Reviews?
Any books or other published material?
How far in advance is booking needed?
Why this eco-tourism company over others?
Any merchandise available?
Pricing? Menu?
How can I contribute to this site?
What can I get for my budget?
Any boat travel?
Language barrier? Are there translators available?
Equipment provided? What should i pack?
Safety precautions? Preparations?
If there's a problem, is there some sort of quality assurance/guidance?
Contact info?
Those questions will come into play when we implement the Affinity Diagramming process for Good Human Travel, as seen in the video below:
Affinity Diagramming for Information Architecture
There were several developments that came from the focus group shown in the video. The most important of which (in my opinion) was the creation of a "Get Involved" tab in the main navigation. Also, the content of the "Topics" menu item was split up into a "Travel Tips" main nav and "Your Trip" or "Trip-Planning" sub nav. Also worth noting is that "About" and "Contact" were divided into separate tabs.
Here's what our sitemap starts looks like from a bottom-up perspective after taking the main topics from that exercise, putting them in order of the user's potential actions, and refining the sub-navigation a bit: